Further Gallery Links
My days selling etchings in Covent Garden 1982 – 1990
One Saturday in 1982 I went to the Jubilee Market and hired a table for about £2. In those days Covent Garden was so quiet that they did not open the tube station on Sundays. I think I sold about 3 – 4 etchings for between £1.50 – £4 each.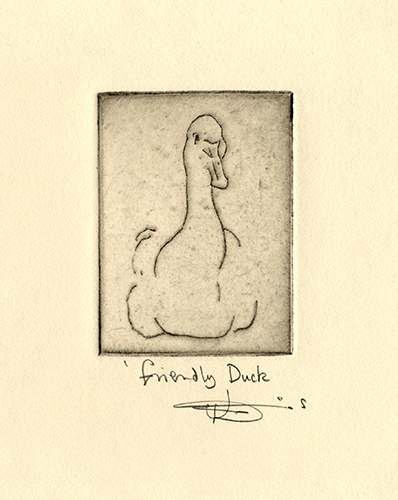 In those days my rent was £5 a week, my daily allowance for living 50p per day, and my monthly Tube season £12. Earning £10 in a day made me feel rich, and at the end of that day I went the to the local art shop to buy a straight edge and knife.
I was selling at Covent Garden for about ten years. If you had met me you would have been struck by my hands which were black from the inks, and my clothes which were rags. Every penny I earned went back into running a studio and building the business. Every hour of every day was spent drawing, printing, preparing and selling my etchings. In my last weekend, in about Christmas 1990, I sold maybe a hundred etchings and earned £4,000. My etchings were every where.
I do not really like technical craft work, I am simply too scatty and lazy, and my etchings probably looked more professional than they really were. This etching of two herons is about 36 inches wide. I remember selling them for about £40, although in the galleries in Japan these etchings were selling for more like £400. The copper plates were cut out and the images looked very clean and crisp. The image is all about composition.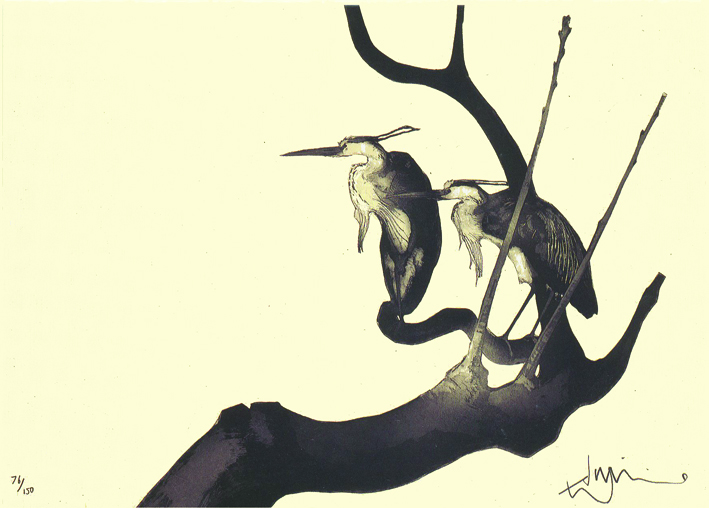 I had an etching press made with a specially extended bed. This allowed me to make etchings up to 52 inches long. My biggest etching was the Elgin Polo . The Elgin Polo is a series of four sheets that string together to make a single image that tells a story. The full etching is 13 feet long and I have heard copies have ended up hanging in the club rooms of various posh polo clubs.
I have a digital record of a few of my etchings from that period. I will try and scan some more and add more to this small library of images from this period. Quite frankly not all of the etchings are worth remembering, but some were beautiful.