I made the Elgin Polo in about 1986. The full etching, which is printed in four pieces, stretches across 4.5 meters and tells a story of a polo match at the Guards Polo Club in Windsor Great Park. Prince Charles was playing that day, and the Royal family were in attendance.

When I lived in London I used to go to the British Museum to draw the Elgin Marbles frieze. The Parthenon frieze which used to adorn the Parthenon on the acropolis in Athens, starts with the citizens of of the city preparing for a parade. The narrative turns into a procession that ends with a presentation of a gift of cloth to the Gods.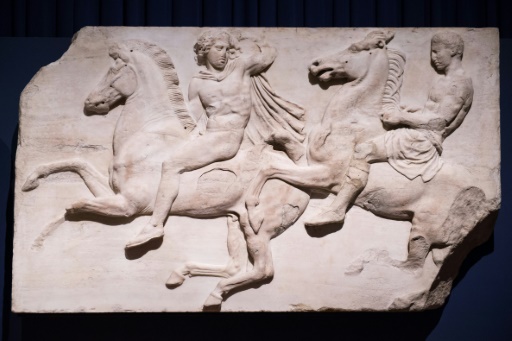 My Elgin Polo starts in similar way to the Elgin Marbles. (I even referenced some of the horses from the Greek original in my own image). My frieze begins with horses arriving and being groomed, then mounted and entering a procession to the polo pitch. Time passes as we move our eyes along the frieze, and we find the horses are now galloping towards the opposing team. The focus of the etching is a battle scene, a crescendo where the two teams meet.
I sold an edition of 35 copies, but most purchasers did not buy the entire four pieces. Most of the etchings went to Japan, but I have I heard my frieze is hanging in the club rooms of some Polo clubs. It is a fun idea but the quality of the drawing and execution are not my best, and there are many elements I would change if I were to make the image again.
We have used a section of the etching to make a card and mug. These are available from Two Bad Mice and often used as gifts for polo players.