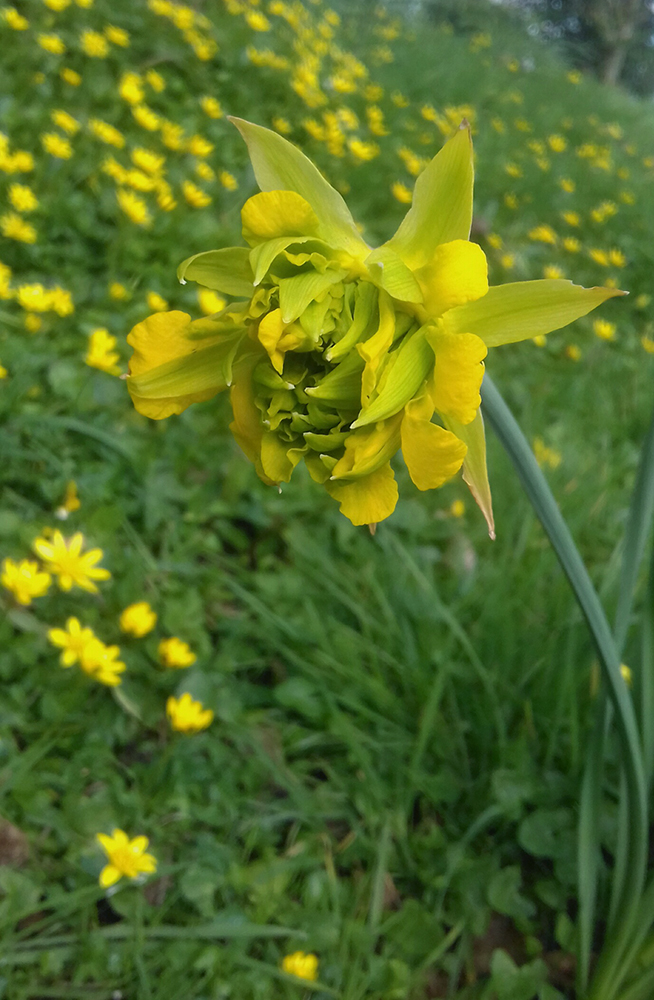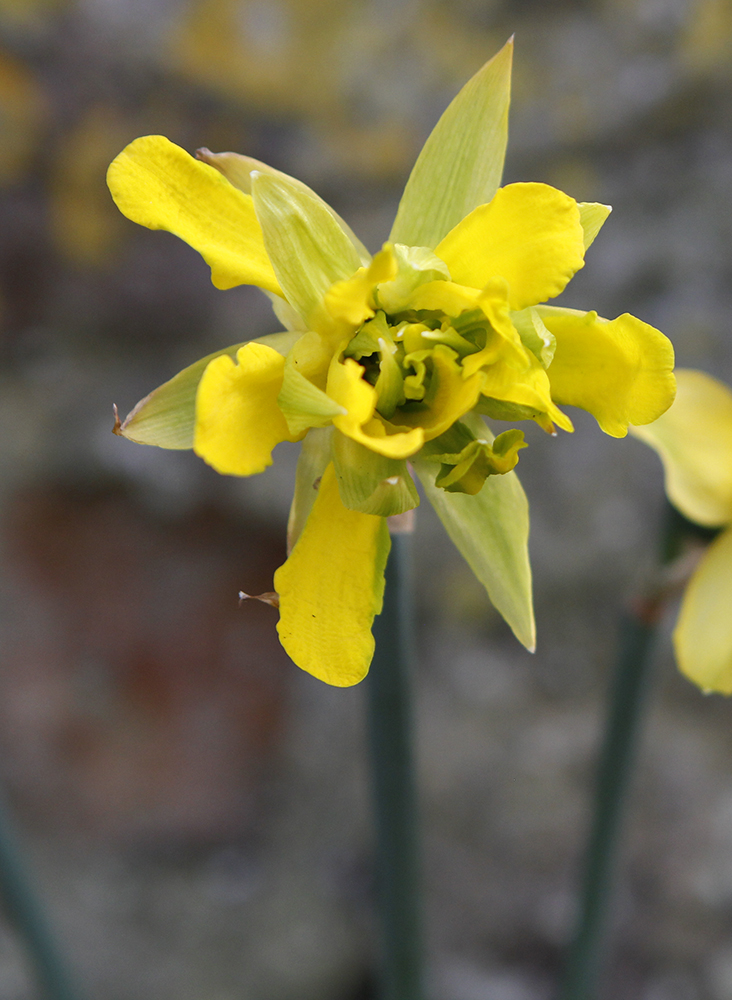 It was just after the war that my parents bought Waundwgi, a derelict 18th century Welsh farm. They loaded all their possessions into their open topped ex-US army jeep called "Stormy Weather" that had survived the Normandy landings. For the next two days they drove across post-war Britain with Timothy, their new born baby, in Talitha's arms. When they arrived they discovered the previous owners, the Bells, had changed their mind about leaving and were barricaded in the farmhouse. My exhausted parents had to book into a local hotel and wait until the previous owners were away at market to break into their new farm and change the locks.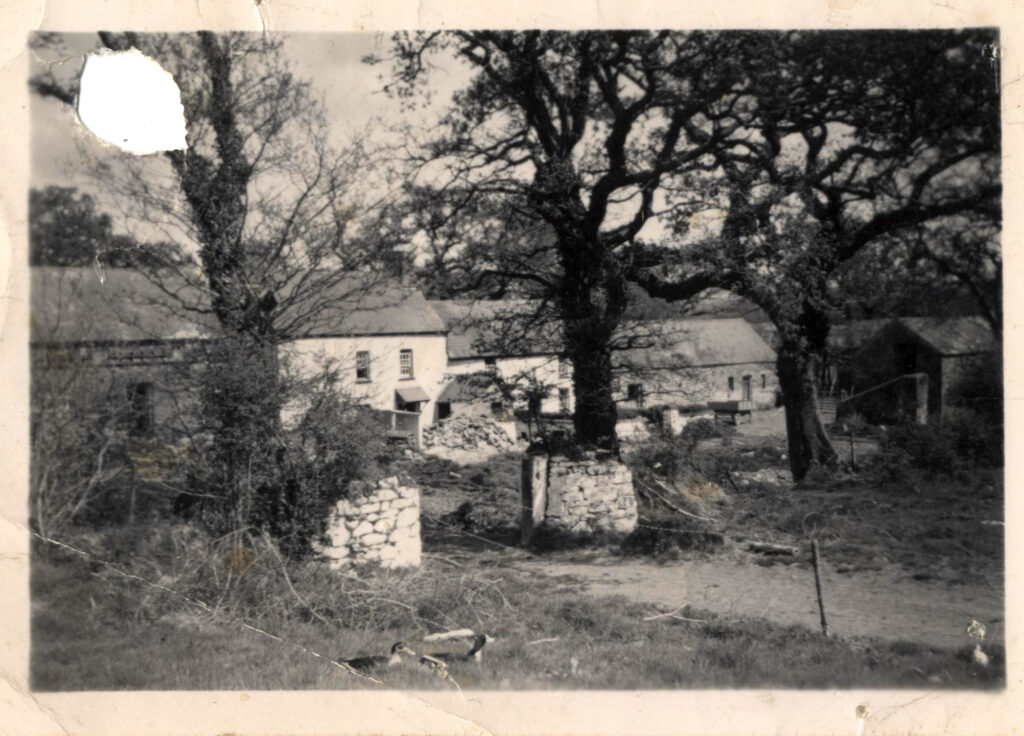 Waundwgi (lit. Otter's Moor) had no electricity or telephone, and the only water supply was from hand pump over a well in a shed. My mother tells me it took 1000 pumps to extract enough water for a bath. The loo was a plank with two holes over a stream.
As the name suggests the farmstead was situated next to a river at the bottom of steep hill at the end of a very long windy lane that was too hard for cattle trucks to reach. The farm buildings were run down and big piles of rubble filled the yard. The fields nearest to the river were very boggy and got churned up by hooves of the dairy herd.
Fortunately their neighbours, who all spoke Welsh as their as their first language, were very friendly and helpful, and they were welcomed into the community as strange and exotic "educated" people from a completely different culture. My parents were the first farm in the area to own a tractor.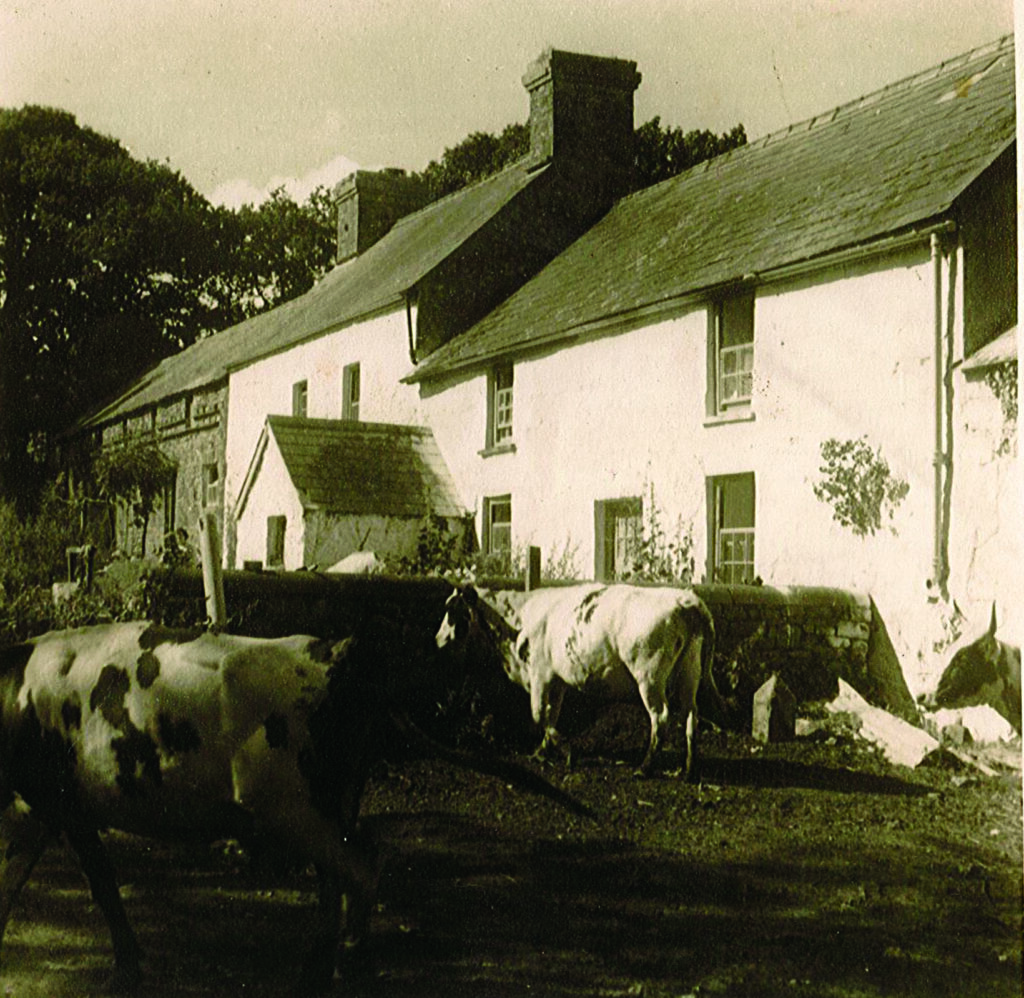 Nicholl, who had served on the North Atlantic convoys during the war had recently completed his agricultural studies at Trinity Hall Cambridge, was fired up with the post war enthusiasm to rebuild the economy. He imagined himself solving the problems of food shortages in rationed Britain.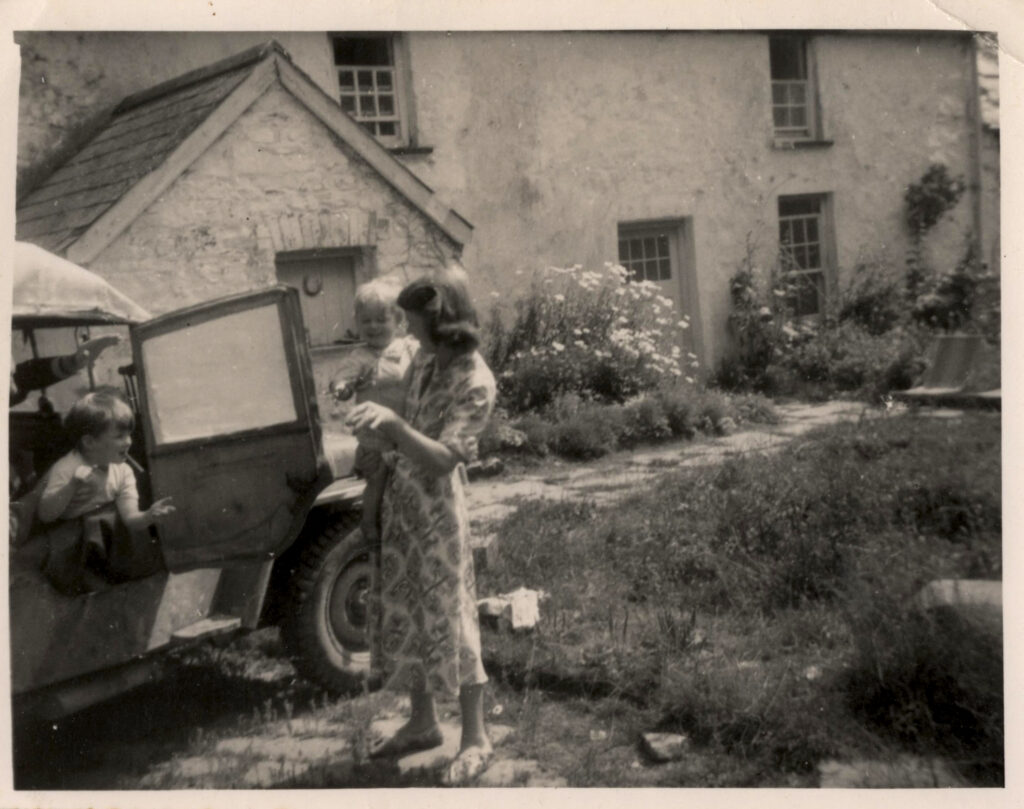 Talitha, who had grown up in South Africa, loved flowers. 70 years later Talitha remembers Waundwygi for all its hardships, but also the daffodils. Double daffodils that were growing along the long lane down to their farm.
In 1999, 42 years after my parents left Waundwygi, Mami and I bought a run down house in the same locality, As the crow flies, Lampeter House is two miles from where I was born.

Lampeter House is a 16th century farmhouse that has been added to in the 17th, 18th and 19th centuries. We can see from the large cedars and a very old tulip tree that there was a garden here many centuries ago and a line of yew trees that I believe were planted along a pilgrims path to a holy spring on the edge of the hill overlooking the house. I know from a newspaper clipping that Lampeter house employed a Mr Lycett as a gardener in 1910, but when we arrived there were very little left of his garden other than a few scattered rose bushes and some old apple trees in the walled garden. In the woodlands were double daffodils, just like the ones my mother had described grew at Waundwgwi.
The daffodils are very distinctive and have a wild look with their have gnarled petals which are often streaked with green and a strong scent that is a bit lemony. They come in a wide variety of shapes and sizes so no two flowers are ever the same.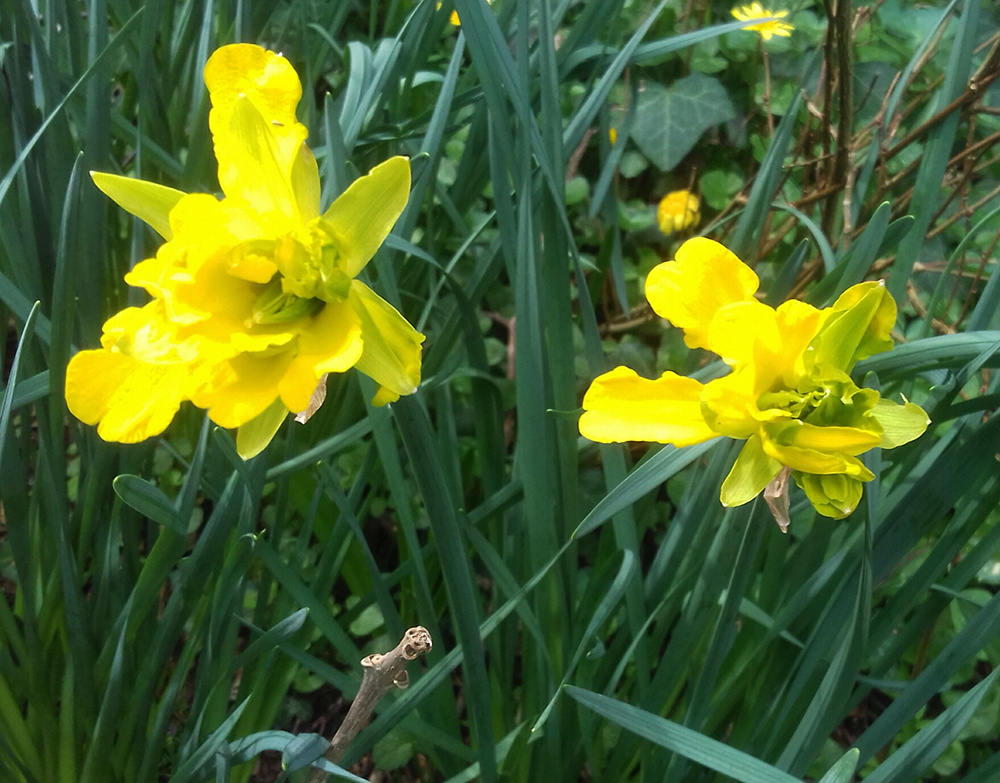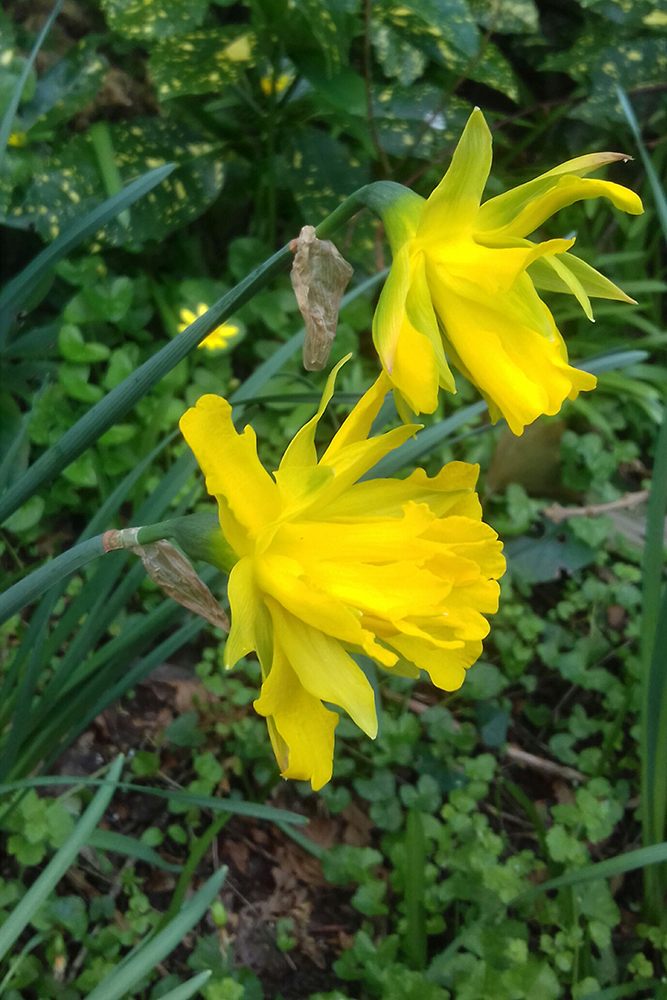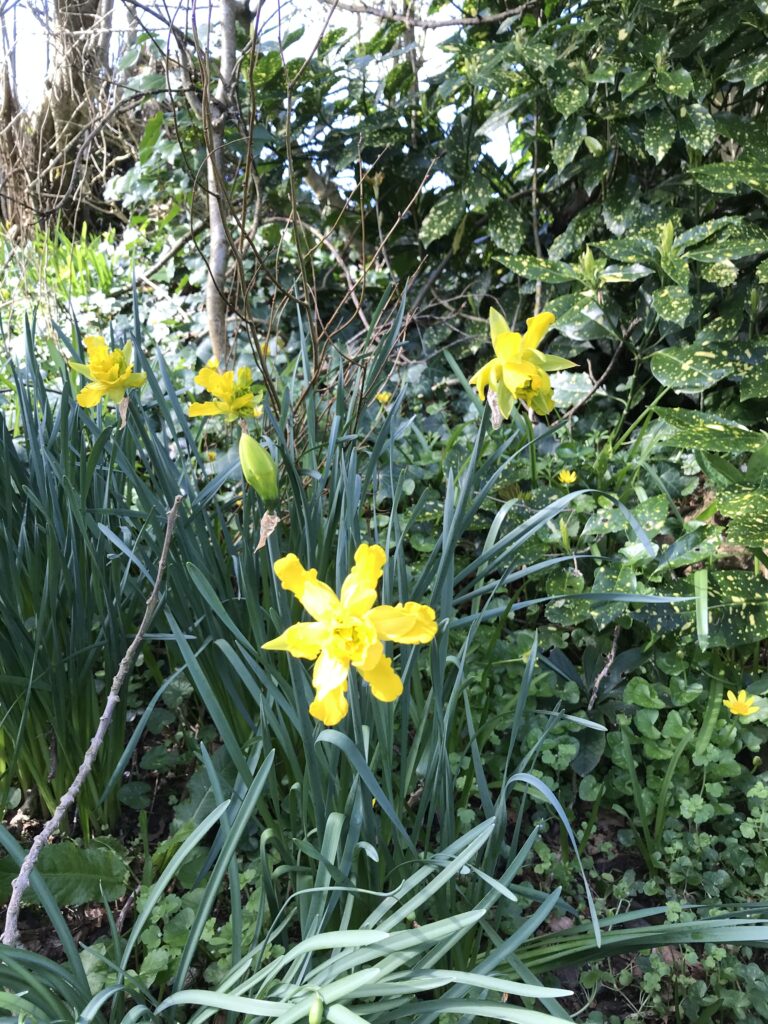 I have often wondered about these flowers. Having no name I have always called them "Pembrokeshire Princesses" because they seem wilder and more authentic than the perfect commercial varieties we get from garden centres, and they seem to belong to a more ancient landscape. A few days ago I spotted another clump beside the entrance gate of local farm. This persuaded me to try and find out more about them on Google.
Quite quickly I found a plant that matched; "Van Sion" daffodils are "a very ancient variety often found in old country gardens".
The Van Sion Daffodils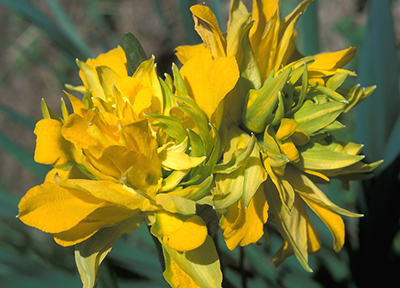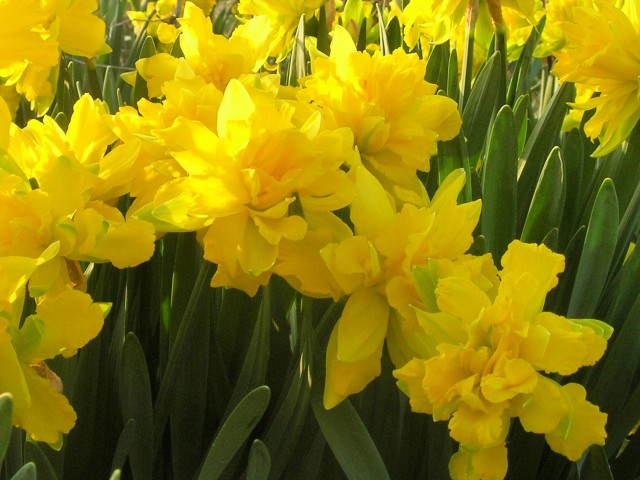 The bulbs of Van Sion an ancient much loved hardy English variety named after a Fleming called Vincent Sion who lived in London in 1620. Mr Sion was obviously intoxicated by the daffodil that "resembled no wild species" and cherished it in his garden for many years. After his death the bulbs passed to his friend George Wilmer of Stratford Bowe, who came to call it Wilmer's Double Daffodil.
All this was happening at the same time as Tulip mania in Holland (1633 -37), and it seems Vincent Sion's bulbs were a curiosity amongst the gentry classes in Northern Europe. Vincent Sion bulbs became known as Van Sion and were carried across Northern Europe and taken by emigrants all over the world. I cannot do better than quote Jennifer Moonsong's (Kentucky USA) blog account of the plants history.
By the 1700s, the unique-faced flower had spread throughout a good portion of Northern Europe.
The flower, so hearty that it can propagate with ease, and is easily transplantable, even when the bulbs must lay dormant for long periods of time, became a popular item for English, Irish and Scottish immigrants who came to America.
It was a means for them to preserve something sentimental of their heritage, particularly considering that the flower often grew wild around their houses and graves of loved ones.
At the same time that it made its way to America it was also apparently making its way to other parts of the globe.
Botanists' records of the flower have been found, from the 1700s and 1800s as far east as New Zealand as well as along the Spanish Riviera and in Portugal.
In America, immigrants planted it in the places they first settled, particularly the hills of Appalachia.
Even today with those first settlers' hillside dwellings gone, you can often find the location of old homes by looking for the long-blooming Van Sion in the Virginias, Kentucky, Tennessee and Carolinas.
Their beauty did not go un-noted. They soon became a favorite flower amongst the Native Americans who remained in the hills, and were carried with some of the Cherokee who traveled the Trail of Tears, accounting for their prolific growth in modern day Oklahoma.
Likewise, African American slaves, once freed, often took bulbs from the daffodil north... it is prolific in all states east of the Mississippi and a few to the west."
I thought I had wrapped it up, until I found a story about the Derwydd daffodil that was once grown in the gardens Dwerydd mansion, a 15th century mansion at Llandybie near the market town of Llandeilo in Carmarthenshire. Because it has strangely contorted blooms with green streaks the Derwydd has been described as The ugliest daffodil in the world
The Welsh Derwydd Daffodils
Whilst the Dwerydd look similar to the Van Sion, the Derwydd have more irregular petals and more green streaks, they almost certainly evolved separately, maybe out of the "Tenby" which is the single daffodil variety found wild across South Wales. Daffodils themselves were introduced from southern Europe by early travellers, quite likely the Romans who used them as medicinal plants.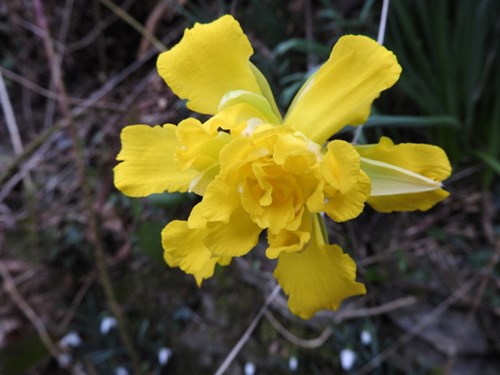 The earliest written record that mentions a double daffodil (that might have been the Derwydd) is in a document made during a 12th century dispute over the boundaries in the neighbourhood of Llandeilo Talybont between the Bishopric of Glamorgan and that of St. David's.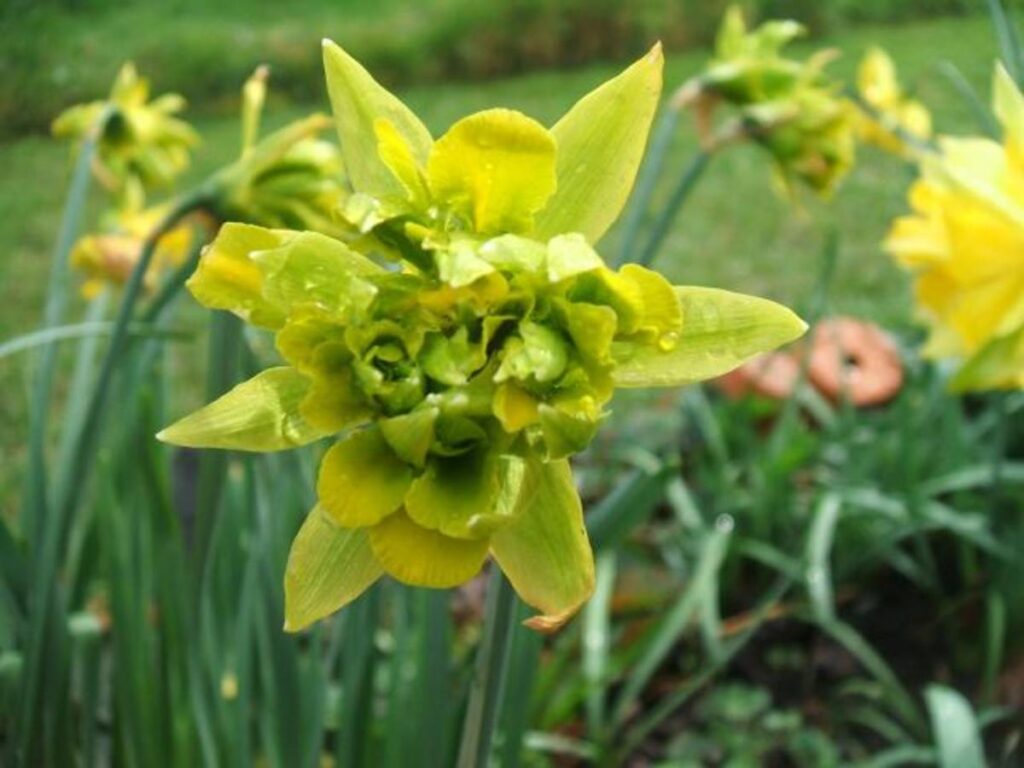 The story used to go that Derwydd were not greatly valued at Derwydd Mansion and died out, and for a long while the variety were thought to be extinct until they were rediscovered about 30 years ago in the ancestral Johnston family cemetery in Tennessee (USA).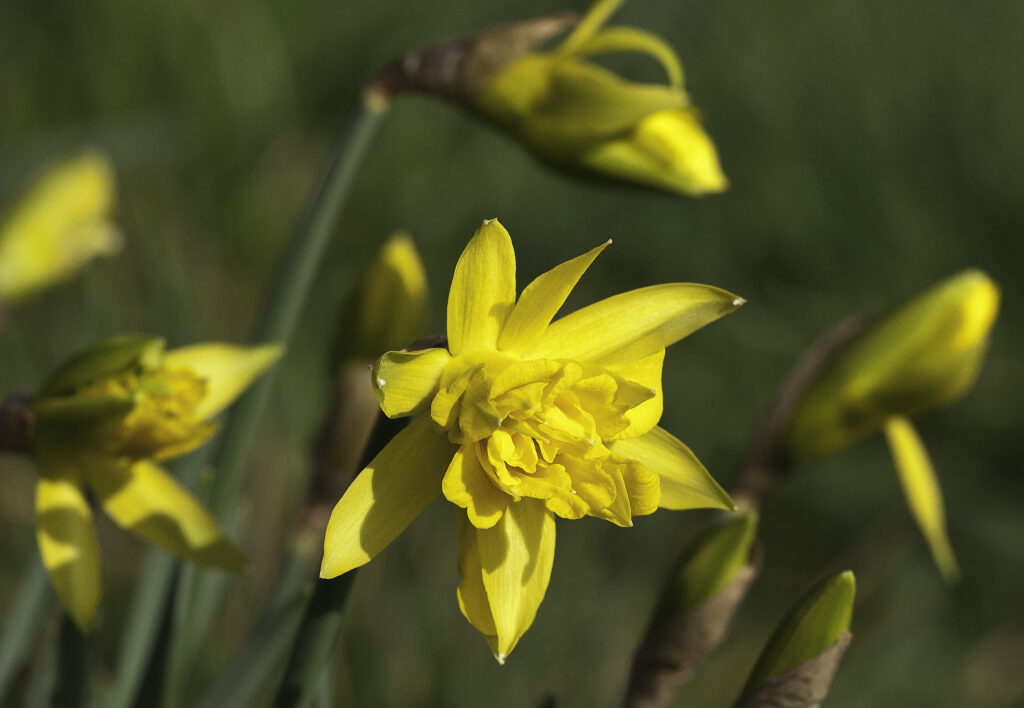 The Welsh Botanical Gardens tell me this story is wrong. The Dwerydd never died out, they were just overlooked and are still quite common in Carmarthenshire, especially around Llandeilo. On the internet I have discovered that a cluster of sites have been discovered in the neighbourhood of Cilgwyn Lodge on the other side of Llandeilo, one plant at a cemetery at Horeb and Cynheidre near Llanelli, and many by the Gower Wildlife who record the flowers quite common on the Gower peninsular. The Botanic gardens have a big display of Derwydds outside the Ice House.
Pembrokeshire Clusters
The Derwydd have more contorted petals and are greener than the Van Sion. The Welsh Botanical Gardens have identified our daffodils from the photographs I took as most probably being Derwydds. It is interesting that the flowers in America were at the Johnston Family Cemetery and I wonder if the family have a connection with the little hamlet of Johnston in Pembrokeshire? I am not sure how many other sites have been discovered in Pembrokeshire.
I always did find the misshapen green petals of our Derwydds more appealing than the big heads of commercial varieties that have taken over and are everywhere. Partly because they were so important to my mother in the hard times just after the war, but also in amongst the long grass the princesses look like natural wild flowers. Now I know so much more about them I will spread our clumps of Derwydds that are growing vigorously in our woodlands, and love them even more deeply.
Perhaps you have seen these flowers, or something similar in old gardens? Please let me know, or add your comments.
Links
https://oldhousegardens.com/MoreAboutVanSion
A host of golden daffodils: Discovering Van Sion – Jobe for Kentucky (jpinews.com)
A host of golden daffodils: Discovering Van Sion – Jobe for Kentucky (jpinews.com)
Cilgwyn Lodge – All the joys of early spring
https://h2g2.com/edited_entry/A21989901
The plant originated in south-western Europe and was first cultivated by the Romans, who believed that daffodil sap could heal wounds. Actually, sharp crystals of calcium oxalate4 in the sap, which prevent animals from eating the plant, can irritate human skin.
The original English names, Daffodowndilly and Daffodily Affodily, are corruptions of the original Greek 'Asphodel'. The French, who utilise the plant as an antispasmodic, know them as fleur d'asphodèle, and also pauvres filles de Sainte Claire.
https://letterpile.com/personal-essays/The-Ugliest-Daffodil-in-the-World-the-Derwydd